Login instructions
General but important remarks:

That is, all the answers to problems such as: "Help, I can not log in!", "What is my login and password?", "Because I do not have an account on the Platform but I want it" etc.
To create an account, you must provide an album/index number, first name, last name and email address, as well as a student group symbol (e.g. 35DR) and possibly a specialty to access the relevant courses.

account is created to the e-mail address used for recruitment and a notification goes to that address

if you do not know or remember your login or password - you can reset it by yourself - the manual below on

this page

.
All registered users should receive an email with a login and a temporary password. If the message did not arrive, it means that:
The user does not have an account. Accounts are set up for student groups at the request of the lecturer according to a lists received from the Dean Office. If someone is recruited later, they might not be on the list. Similarly,

if you did not provide an e-mail

address when recruiting.
An incorrect or different email address was provided for recruitment.
Checks messages at a different email address.
The message went to the Spam folder (it happens)
Other problems with the mail server.
If you've received a message and still can't sign in:
You have entered the wrong password too many times (at least 10). Your account will be blocked for 20 minutes.
(Caution! It's recomended to REWRITE the password instead of copy-paste. Inaccurate selection of text often causes errors)
14 days

have passed since receiving the message and your

account has been temporary blocked
(in that case please reset your password as described below)
Cookies

are blocked in your browser. Check browser settings.
In any of the above cases,

you can

contact directly the administrator of the Platform: mail - moodle@mans.org.pl or from Monday to Friday from 10.00-15.00

room A002

, tel. +48 22 59 00 845.
Students on an individual course of study are also asked to contact us to be added to a specific groups.
To log in to the Platform:
use the Login

block at

the top right of the home page or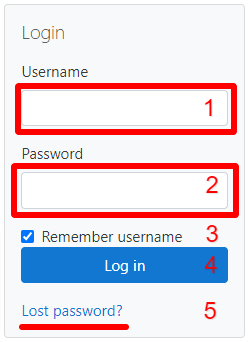 use the login screen - login link

in

the upper right corner of the home page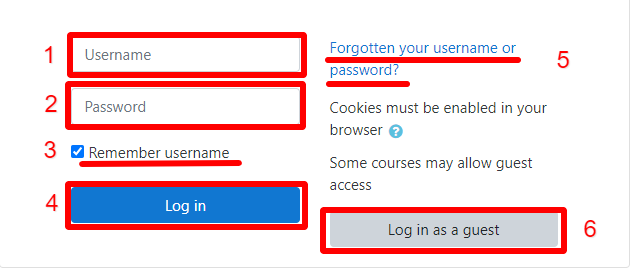 What each field is used for:
here you need to enter the user name (login) ie.

album/index number



enter the password

received

in the e-mail from the administrator

select this option if

we want your login to be automatically entered every time you visit this page

click the button to log in

if you forget your login details (password reset) use this link - in the form displayed enter your login (album

number)

OR

the email provided at registration, to which will be sent a link to reset your password

only on the login screen - if you do not already have an account, you can log in as a guest
Additional information:
the first time you log in to a new account, as well as every time you log in as a Guest, you will see an additional screen with the Platform Terms and Conditions, which must be accepted with the

Yes button at

the bottom of the page
after the first login to the new account you will be redirected to the password change form -

password must be

changed, otherwise the account will be blocked. Password length required - at least 8 characters.
entry

before logging in

to any course available to guests will automatically log in you as a guest. Guests can browse shared courses and sometimes download content, but when trying to take advantage of activities such as Quiz, Task, Chat, etc. account, you will be redirected to the login screen.
the acceptance of cookies in your browser must be ENABLED, otherwise you will not be able to log in.


<nerd mode on>This is because the user ID is stored in the cookie for the entire duration of the session and deleting it automatically ends the session, i.e. logging off</nerd mode off>
Last modified: Wednesday, 5 October 2022, 10:57 AM